The Hydro-Mist eliminates perc-contaminated wastewater produced by distillation, water separators, vacuum units and cartridge dryers. A set of primary and secondary carbon cartridges purify contaminated water, which is siphoned through an air pressure system producing a fine "Cool" mist.
Features include:
Rugged Stainless Steel
Corrosion Free
Gravity flow and self feeding
No steam
No Heat
No electricity
No Pumps
No Solenoids
Hydro-Mist Setting the Standard for Performance
Cabinetry:
Constructed of stainless steel.
Contaminated Water Tank
Holds up to five gallons of perc contaminated water.
Lid:
Prevents debris from falling into Water Tank.
Clean-Out Port:
Allows easy cleaning of Contaminated Water Tank.
Evaporator Nozzle:
Atomizes water into tiny droplets that evaporate almost instantly.
Air Pressure System:
Creates air velocity that pulls water through cartridges into the evaporator nozzles.
Plunger Cleaning Button:
Dirty Nozzles are easily cleaned by pushing the Plunger Cleaning Button located on the underside of the nozzle. A cleaning needle will rise up through the orifice and dislodge the foreign body.
Sight Tube:
Views perc contaminate water level in Cartridge Cavity.
Built-in Separator:
Allows free perc to separate before the contaminated water enters the cartridges.
Perc Float:
Visual indication of free perc.
Perc Drain Valve:
Location on bottom of unit allows draining of free excess perc.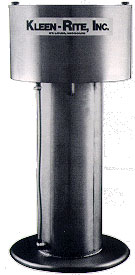 Environmental Impact
Air Impact:
No contaminated air is produced from this equipment.
Water Impact:
Water is evaporated off to the atmosphere at less than 0.1 ppm of perc.
Solid Waste Impact:
Dispose of two carbon cartridges every 3 months.
Energy Impact:
The Hydro-Mist operates on 30 p.s.i.g. air pressure at 1/3 horsepower.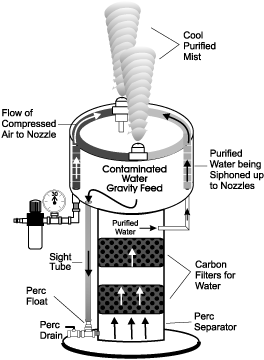 Model HM-1
Height

25-1/2"

Diameter

14-1/4"

Net Weight

26 Pounds

Water Tank Capacity

5 Gallons

Rate Water Purified

3/4 Gallons Per Hour

Air Pressure

30 PSI

Compressor Air Usage

1/3 Horsepower

Number of Cartridges

One Set