The Kleen-Rite Hydro-Mist eliminates perc or petroleum contaminated wastewater produced by distillation, water separators, vacuum units and cartridge dryers. 
MODELS: HM-1, HM-2, HM-3, HM-4
Free Standing Unit
Stainless Steel Construction
Compact Size
Water Tank Holds Five Gallons of Contaminated Water
Lid Cover Prevents Debris From Falling into Contaminated Water Tank
Clean-Out Port Allows For Easy Cleaning of Water Tank
Drain Valve Location at the Bottom of Unit Allows Liquid to be Drained From The Cartridge Holding Cavity
Gravity Flow and Self-Feeding
Sight Tube Indicates the Level Of Contaminated Water in the Cartridge Cavity
Evaporator Nozzles Atomize Water into Tiny Droplets That Evaporate Almost Instantly
Air Pressure System Creates Air Velocity That Pulls Water Through Cartridges into the Evaporator Nozzles
Pushing the Plunger Cleaning Button located on the Underside of the Nozzle Easily Cleans Dirty Nozzles.  The Cleaning Needle Will Rise Up Through the Orifice and Dislodge the Foreign Body
All Models are 14-1/4" in Diameter and 25-1/2" High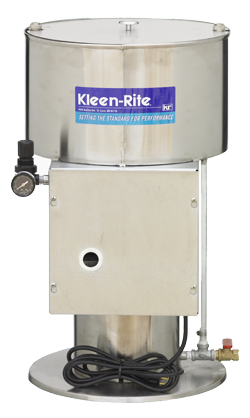 This HM-4 Model automatically shuts down when excessive solvent is present in water.  A visual safety light signals the operator that the system has shutdown.
Environmental Impact
Air Impact:  No contaminated air is predicted from this equipment.
Water Impact:  Water is evaporated into atmosphere at less than 0.1 ppm of perc.
Solid Waste Impact:  Disposal of two carbon cartridges every 3 months.
Energy Impact:   All Hydro-Mist models operate on 30 psig air pressure at 1/3 horse power.  The Hydro-Mist models HM-3 and HM-4 require 110 Volt.